In a previous post, I wrote about my experiences traveling into the Amazon rainforest. A year before my trip to South America, I traveled to Mexico! I had enrolled in a class called Ecosystem Restoration at SUNY-ESF. The hook for me was an advertised trip to visit the Lacandon Mayan people.

I'll attempt in this article to compare the way the Lacandon Mayan produce food, with the indigenous practices in Amazon rainforest of South America.

I hope to show that the indigenous peoples throughout the Americas, had and currently have a sophisticated understanding of how to produce food in a sustainable way.
We finally arrived by bus to their small village in southern Mexico. An avocado tree was offering up large fruit, and it stood like a sentinel dangling over the cooling river.
The sun was baking hot, and I wanted to jump into that cold looking river. With my pack stored away in a mosquito-excluded hut, I ran to the river to jump in. There I found two young Lancandon kids climbing young trees and diving from their tops into the flowing river. The sense of freedom from these young kids was striking.
We were to stay here a few days. Over these days, our plans were to visit a Mayan archaeological sites, a sacred waterfall, and maybe most importantly see their milpas.
The day finally came to see a milpa. Essentially a milpa is a traditional system of food production in Central America, and our professor, Stew Diemont, was a leading authority and collaborator with the Lacandon Mayans.

He led us through a dense patch of forest where we finally emerged out of and approached a small house where bananas hanging over the outdoor kitchen, dogs running around on the dirt road, and his kids swinging in the hammocks. I knew again that I had found something special.

Stew Diemont introduced the indigenous man to us.

When we asked Stew later, how he learned how to take care of the milpa, he responded "from his great-grandfather when he was about sixteen."
According to the Lacandon man, there are seven stages in their milpa. Each stage provides some kind of food (plant and animal), fiber, medicine, and so on.
But they all look different from each-other, and we were going to see them fist hand.

The first stage looked at first like an ordinary field of planted corn. However, when I looked in between the corn, I found melons, and edible greens which included plants in the Amaranthaceae, Portulacaceae, and Asteraceae plant families.

Our guide took out his machete, and showed us the rich soil, that teemed with insects and microbes. He was proud of it, and the smiled affirmed this.
The following three papers I hope will shine some light on some of the background of what I saw in Mexico and Ecuador.

1) The first paper is called "Legacy of Amazonian Dark Earth soils on forest structure and species composition" by Oliveira et. al.
The article begins by suggesting a connection between the number of domesticated trees in the Amazon, and human involvement in the past.

Oliveria et. al., writes, "Following the arrival of European colonialists in the 15th and 16th centuries, the pre-Columbian populations were estimated in the millions".
The introduction of guns, germs, and steel led to nearly 90% decimation in their population! What was left behind? Well, it's taken researchers 500 years to see the indigenous tropical technologies that communities up and down Native America were employing.
2) A second paper called "New Insights From Pre-Columbian Land Use and Fire Management in Amazonian Dark Earth Forests" by Maezumi et. al.
This article goes into what Amazonian Dark Earth soils are. It's obvious to me that the Lacandon Mayans too were producing ADEs.

They team writes "Nutrient rich ADEs are abundant in charcoal and ash, along with other organic additives, including human waste, domestic refuse, crop residues, compost, and mulch, which release nutrients and carbon into the soil". The frequent use of controlled fire in the Mayan milpas is well-known.
It's called wind tending, and according to Stew Diemont, they "use fire to remove most of the brush and litter from anarea of land while keeping the fire under control and preventing it from jumping the firebreak and burning adjacent fields or converting the entire biomass to ash requires considerable skill. Individuals known as "wind tenders" in the Yucatán (yum ik'ob in Yukatek) carry out the burns."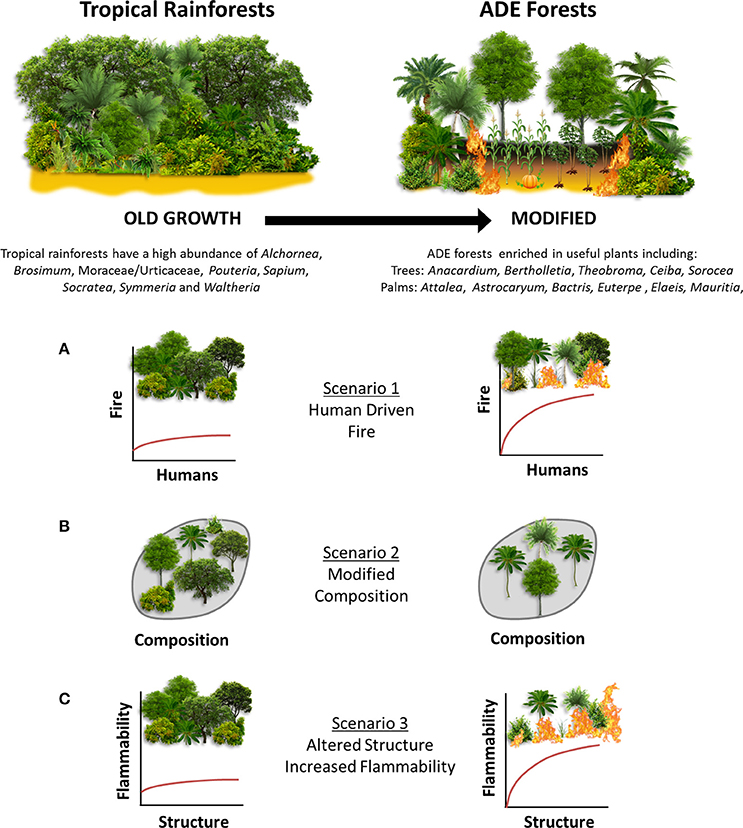 Maezumi et. al., goes to say that amongst the indigenous peoples in the Amazon, the use a few techniques to take care of their forests is documented. They include "the removal of non-useful plants, protection of useful plants, attraction of non-human dispersers, human transportation of plants, selection of useful phenotypes, planting, soil improvement, and fire management".

The Mayan too produce what is known as NTFP's or Non Timber Forest Products. Our guide towards the end of our day, picked from a tree a sapote, which comes from the Nahuatl word tzapotl.
3) The final paper is called "How People Domesticated Amazonian Forests" by Levis and Flores. The researchers begin the paper with a bold statement.
It reads, "The notion of pristine rainforests has been questioned by increasing archaeological and ecological evidence suggesting long-term human activities across even the most intact forests worldwide." The scientists note that at least 85 different species of trees have been domesticated in the Amazon, on some level, prior to the arrival of European explorers.

Eighty-five species! Can you name eighty-five different species of local plants?
My experience with the Lacandon Mayans left me in a such a state of gratitude. We finished our trip with them by visiting their sacred waterfall. As the water washed over me, I remember contemplating both the challenges and the beauties of their current community.
The Lacandon people today, and other tropical tribes throughout the world, are still dealing with industrialization, pollution, and other changes, especially when it comes to diet.
My heart is singing a hymn as I think back on the experiences with the Lacandon People in Central America and the Shiviar People in South America. It's as if, i've been touched at a deep level from spirits of the forest.

I hope these words inspire you to appreciate the indigenous more, and bring home some of their timeless teachings.
As always, please forage responsibly and in sovereignty. The plants are alive, and are living, just like us.
Rest in peace, Sara Moore.
Join hundreds of monthly readers. Get exclusive content, private Q&As, giveaways, and more. No spam, ever. Just great stuff

Follow Max:

Instagram 
Facebook 
Website 
Patreon 
Youtube
LinkedIn 
Spotify